Down the Great Unknown:Book Item# 00-JWP1869-1bk
A biography of Alexander Hamilton, the first Secretary of the Treasury of the United States, discussing his accomplishments as well as the controversy and scandal that marked his career.

Publisher: Millbrook Press pages. 185 Brand new condition

America's Bold Lion: Item# 00-AH185-mpbk

Best Little Stories from World War II

by C. Brian kelly

One of the fascinating things about war is the stories that come from




it. Kelly has compiled over a hundred of these stories from World War




II that would make any history buff proud. Books like this remind us




that war is not only battles, generals and casualty rates. There is so




much more beneath the surface. Wars are faught by people, by human




beings, and when that many human beings share a common experience,




there are certainly some good stories coming from it. Best Little




Stories of World War II is a wonderful choice for anyone interested in




history or in WWII. 352 pages

22.7 x 15.2 x 2.9 cm CUMBERLAND HOUSE PUBLISHING

(Paperback) new..

Best Little Stories from World War II Item# 00-BLS2-00bk-bk
Beyond the Rhine: book Item# 00-BTR-00208DB-bk
Faith of My Fathers
It was in the Vietnam war that John McCain III faced the most difficult challenge of his life. As a naval aviator he was shot down over Hanoi in 1967. His story tells of torture beyond belief, inhumane treatment by his Vietnamese captors during five and a half years of imprisonment.
After a career in the U.S. Navy and two terms as a U.S. Representative (1982-86), John McCain was elected to the U.S. Senate in 1986 and re-elected in 1992 and 1998. A graduate of the U.S. Naval Academy, with 22 years in the military, McCain became best known as " The U.S. Senator from Arizona."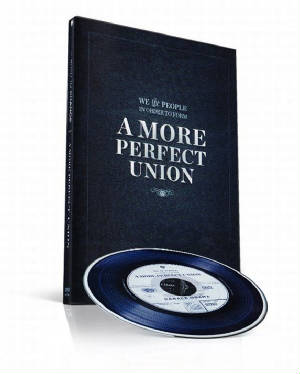 A More Perfect Union DVD Item# 00-BO08MPU-DVD

Format: Paperback

ISBN: 0553253034

Pages: 192

Availability: Sorry Limited quantity only.

Howard C. please buy the book on Ferguson rifle, I'm sure you would enjoy it, and any of the other books as well, Thanks! Fred R.

Brief history of the Ferguson.

The brainchild of Major Patrick Ferguson. Breechloaders had been built prior to Ferguson, most notably the rifles made by Chaumette, but they were delicate affairs, unsuited to the rigors of military requirements. Ferguson took an existing idea: the screw breech, and built it into a practical military firearm, or at least as practical as technology of the time (1770's) would permit.

Do you know who this person is ? Sellars Families of Alamance co., North Carolina whoarethey Copyright© 2007



Down the Great Unknown: John Wesley Powell's 1869 Journey of Discovery
On May 24, 1869, a one-armed Civil War veteran named John Wesley Powell and a ragtag band of nine mountain men embarked on the last great quest in the American West. No one had ever explored the fabled Grand Canyon. The ten men set out from Green River Station, Wyoming Territory, down the mighty Colorado in four wooden rowboats. Ninety-nine days later, just six half-starved wretches came ashore near Callville, Arizona.
Drawing on rarely-examined diaries and journals, Down the Great Unknown is the first book to tell the full, dramatic story of the Powell expedition. Lewis and Clark opened the West in 1803, as memorably recreated in Stephen Ambrose's bestseller Undaunted Courage; six decades later Powell and his scruffy band aimed to resolve the West's last mystery. A brilliant narrative, a thrilling journey, a cast of memorable heroes -- all these mark Down the Great Unknown as the true story of the last epic adventure on American soil. publs. 2001
America's Last Chance
Senator gaylord Nelson
U.S. Senate 88th- 96th Congresses (1963-1981) Democrat-Wisconsin
America's Last Chance
Very Good in dust jacket. 1970. Hardcover. Modest wear to boards . Dust jacket is clipped , aged . Illustrated w/ 65 B&W photographs. Some of the staggering and sobering facts set forth By Senator Gaylord who stated in 1970 that we urgently needed to reverse the trend toward greater exploitation of our natural resources; Folio; 12-1/2 x 9-1/2"; 98 pages English, B&W Photographs; Hardcover.
Publisher: Country Beautiful Corporation
NEW DVD ON SALE!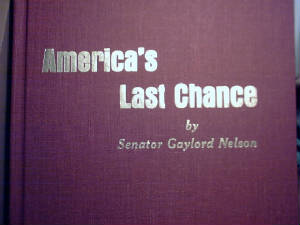 America's Last Chance Item# 00-ALC-1970-GNbk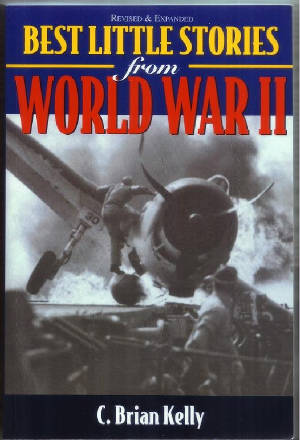 Beyond the Rhine: A Screaming Eagle in Germany
Donald R. Burgett and the rest of the paratroopers of the 101st Airborne had fought long and hard since the Normandy invasion. They fought through seventy-two days of continuous combat in Holland, and thirty days of frozen hell in Bastogne during the Battle of the Bulge. War weary, tired, and bloodied, Burgett and other Screaming Eagles of A Company were heading for the last battle, the drive that would carry them through Alsace, Germany's Ruhr Valley, the Rhineland, Austria, and the end of the war in Europe." "The last push across Germany did not hold the full-scale fanatic resistance the U.S. command had expected, but rather, small pockets of die-hard Nazis unwilling to admit that they had lost. It became clear why some did not wish to surrender. Burgett and the other American soldiers discovered forced labor camps of half-starved Poles, Russians, Czechs, and Jews; men, women, and children all forced to labor for the cause of Germany, or die." "Burgett and his men liberated four Nazi concentration camps where inmates were starved, brutally and systematically tortured, medically and surgically experimented on, and finally gassed and cremated. Burgett writes: "German guards were still forcing inmates to stoke the furnaces with human bodies as we tore through the barbed-wire enclosures. We witnessed atrocities that were beyond human comprehension."" "The Americans fought on from the Black Forest in Bavaria, to Berchtesgaden, where VE day found the Screaming Eagles finally at rest in the Eagle's Nest, Hitler's fabled mountaintop retreat. pages 208 hardcover.
Random House Publishing Group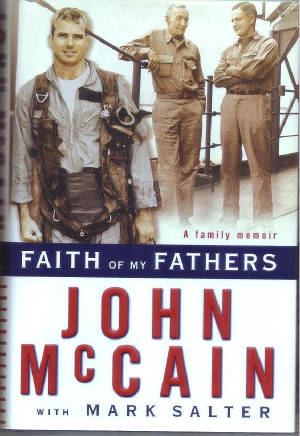 Faith of My Fathers Item# 00-JMcC1999MS-bk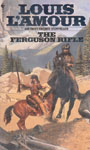 THE FERGUSON RIFLE Book Item# 00-FR1700-LA-bk

AABooks. Item# 00R-00CRR78

cost ......$29.99

Shipping & Handling:$2.99

Total: .......... $32.98 USD




Prices subject to change, due to

printing or shipping charges.

Out of Stock must special order only!

Please email for purchase request.




Clyde Ruffian Roney family photo book, color & B/W photos 115pages (READY 15/Nov/2009)AABooks. Item# 00R-00CRR78



About the Author
Edward Dolnick is the former chief
science writer at the Boston Globe. He
has written for the Atlantic Monthly,the
New York Times Magazine, the
Washington Post, and many other
publications. He made his first
Grand Canyon river trip twenty
years ago. He is married and has
two children. Binding: Hardcover
Dimensions: 9.58x6.48x1.27 in. 1.55 lbs.
NEW BOOK, may have remainder mark .
While sponsoring significant environmental
legislation, Senator Gaylord Nelson will
be long remembered as the founder of Earth
Day. First held on April 22, 1970, Earth
Day has become an annual national event to
learn about ecology and what we can do to
reduce environmental harm. Senator Nelson's
interest in the environment started as a
boy and continues after he left the
Senate in 1981. Nelson is still active in
promoting Earth Day and is a counselor to
The Wilderness Society, an organization
in Washington, D.C. devoted to protecting
the environment. In 1995, Senator Nelson
was awarded the Medal of Freedom in
recognition of a lifetime of public service.
Good to Very Good condition
Best Little Stories from World War II
$14.25 + shipping 3.99 tl.. $ 18.24
A Screaming Eagle in Germany
$22.95 + shipping 3.99 tl..$ 26.94
DVD extra features instructions:
Extra features on official Barack Obama
DVDs can be accessed by placing the
DVD disc into your computer. On PCs, open
the disc using My Computer, in order to
view the extra feature files. On Macintosh
computers, open the disc using Finder.
Additionally, on Macintosh computers,
extra features can be accessed through
DVD menus using the built-in DVD Player.
Simply enable DVD@ccess functionality
through the Disc Setup menu in the DVD
Player preferences. (Limted item)
Available After November 30, 2008.
Media Mail est. chgs 2.50
(NOTE: Prices of items and shipping
cost are subject to change, before
ordering, Please email first for any
changes, if any.
Thanks !
EMAIL US FOR ADDED COST FOR Insurance
WHICH is optional but please
understand that if you choose not
to purchase insurance then I can not
be held responsible for loss or damage
during transit. 7 DAY RETURN POLICY
AND NO REFUNDS ON SHIPPING CHARGES
(alamanceattic ((( @ )))) gmail.com)
Clyde Ruffian Roney family
Old family photos of family members, from
Alamance County N.C., with brief history
of Roney family and kin. Photos old and new
by several family members and
edited
by
F.A. Roney. color & B/W photos est. 115 pages.
photo book Item# 00R-00CRR78
AlamanceAttic Book Shop
Copyright © 2009
Out of Stock must special order only!
Please email for purchase request.